Lynch Hummer always has a Huge selection of Hummers in stock.
---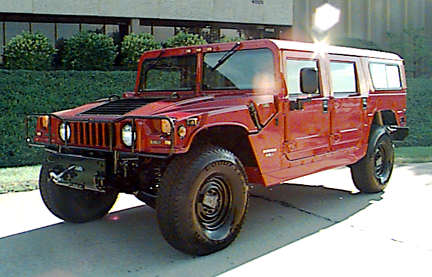 '98 Hummer Wagon. Turbo Diesel engine, Deluxe interior, Deluxe Monsoon stereo, CD changer, Central tire inflation, Cruise, A/C, Driveline protection, Brushguard, Trailer towing package, Heavy duty wheel w/beadlock, Power mirrors, Power windows, keyless entry, Deluxe rearview mirror, Rocker panel protection, Heavy duty rear bumper, Runflat tire system, Heated windshield, Highway touring tires, Winch. Red. MSRP $91,394. Sale Price Deduct 11.6% from MSRP.
According to new manufacturer guidelines, our 1998 Hummer prices are too low to advertise and still remain eligible for factory incentives (no kidding). Our banned prices are still available via phone, fax, or E-mail on demand, upon request.
---
[Home] [Used Hummer inventory photos] [New Hummer inventory]

[Lynch Hummer] [Stupid Hummer tricks] [New Hummer Photos.]
[Pre-Owned Hummer inventory list].[ Adventure Accessories]
[Are Hummers safe?] [Hummer History.] [AM General History.]


---