H2 INTERIOR: REFINEMENT AND CIVILITY FIND A HAPPY HOME AMONG RUGGED SURROUNDINGS
From the outset of development, the interior of H2 was designed to provide new levels of civilized refinement not previously found in anything that approaches this vehicle's capacity for superior off-road performance. Occupants of H2's cozy confines not only find themselves able to ford a stream or climb a steep sand dune, they can also get directions at the push of a button, talk hands-free on a voice-activated cell phone, or make reservations at a posh restaurant back in the city, all while seated in a power seat that remembers how they like it positioned.
"Interior comfort and convenience were given an extremely high priority for H2, and so was maintaining the rugged character established by H1-one look at the big shifter that looks like an airplane throttle will tell you that," said Ken Lindensmith, H2 assistant vehicle line executive. "We civilized the beast. Yes, we've created a superior off-road machine, but there will be those people who never once leave the pavement in an H2. The creature comforts will appeal to all the customers, and it was critical that we raise the bar in meeting their every need."
Those needs will be met in an interior that's roomy, comfortable and refined, with seating for five or six passengers in an open, airy environment created by large, flat front and side glass. Leg, head and shoulder room are plentiful, and the door openings are wide, making the truck easy to enter and easy, at least physically, to exit.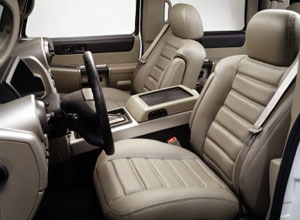 THE COMFORT ZONE
H2's seats feature standard power adjustment and memory for two drivers. Front and rear seats feature long, wide, thick cushions that provide comfort for everyone from a 5th percentile female at 4'2" to a 95th-percentile male at 6'2" (third-row seats will accommodate a 70th percentile male). Front seats feature standard eight-way power adjustment, along with four-way power lumbar adjustment.
Cloth trim is standard. With the optional leather seats, front occupants get independently heated seat backs and cushions with low, medium and high temperature settings. The optional leather seats also provide second-row occupants with adjustable, heated seat cushions. The 60/40 split-folding second-row seats have high seat backs for maximum adult comfort. A third-row, single passenger seat is also available. Its flexible design allows it to be folded or removed for extra storage. The attachments for the optional seat are standard, so customers can purchase and install it at a later date, if they wish. Seats also provide excellent fore and aft travel. The molded-in armrests on the doors complement this by providing a rear-door extension to the front that allows tall drivers, for example, to move their seat all the way back and still have a resting place for their elbows.
KEEPING COOL, HEATING UP AND ROCKING OUT
The instrument cluster, configured for instant recognition of crucial operating data, features distinctive white-faced gauges with black letters and teal nighttime illumination. The IP features switch controls for the multiple operating modes provided by the transfer case, rear axle and traction control system, plus the optional height-adjustable rear suspension system.
Large, round air outlets, positioned high at the center and corners of the IP and at the rear of the center console, provide excellent circulation for the HVAC system. The standard Dual Zone Automatic Comfort Control system automatically controls air delivery, fan speed, air temperature and recirculating/outside air to provide fast heat-ups and cool-downs. Second-row passengers have separate airflow direction controls, accessible at the rear of the console.
A selection of premium, high-quality Bose sound systems is available. An AM/FM stereo with seek/scan, single-disc CD and cassette decks, digital clock, automatic tone control and TheftLock is standard. An optional premium sound system includes a six-disc, single-slot front-loading CD player. All sound systems are specifically tuned for H2 by the high-fidelity experts at Bose.
Each sound system delivers next-generation audio configurations. All include RDS technology, which allows the user to search for music stations by type (i.e., "classical," "rock," "country"), get important traffic and weather alerts and receive text-based messages based upon signals sent out from FM radio stations that broadcast RDS information. The technically advanced standard Bose music system, with nine speakers, provides the ultimate in sound quality. It includes a Digital Signal Processing Amplifier, which allows the listener to tailor the sound to one of four modes.
Rear-seat audio controls are available with headphone jacks to personalize the sound for back-seat passengers. This audio system allows those passengers, using headphones, to listen to a separate audio source (cassette, CD or radio) than front-seat passengers.
The Driver Information Center acts as an interface between the vehicle and the driver, and allows two drivers to take advantage of its two separate driver memory and personalization settings. It provides input on key vehicle functions in easy-to-understand visual message form. There are driver warnings for up to 28 specific vehicle functions. Drivers can also use the center's computer calculations for fuel data, estimated range, average fuel economy, instantaneous fuel economy, dual trip odometers and elapsed time.
FUNCTIONAL DESIGN FEATURES
H2's interior also provides a high degree of storage and other functional capabilities including:
· The off-road package's air suspension includes a self-contained, on-board, electrically powered air compressor, with an air hose that attaches to a valve conveniently accessible from the tailgate. With the engine running, a driver can quickly inflate a tire from 25-psi to its maximum 45-psi level in five minutes or walk around the vehicle and inflate all four tires in about 20 minutes. A toggle switch next to the valve attachment turns the compressor on and off.
· Numerous power points. The IP provides a cigarette lighter and two power points; there are two additional power points at the rear of the center console and a tailgate-accessible power point at the far rear.
· Numerous, large stowage compartments, including a large glove box; a wide, square, locking center console, like H1's, with two large cupholders and a deep storage bin with coin holder inside; deep map pockets, running the entire full length of the front and rear doors; stowage bins and a third-row cupholder in the rear compartment; and a standard full-length overhead console.
· Rear compartment cargo and tailgate tie-downs.
· A standard full-size spare tire, conveniently located inside the left rear compartment of the vehicle, where it is readily accessible, even if the vehicle's wheels are deep in mud or caught in an awkward position off-road.
· Front air bags and three-point restraint systems with articulating headrests.
· Leather-wrapped steering wheel with secondary audio controls, and oversized, leather-wrapped gear shifter handle for surer grips and soft-wrapped assist handles.
· Triple-sealed doors and deluxe acoustical insulation.